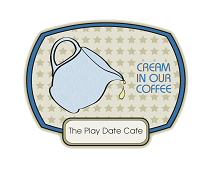 It's that time of year; the leaves have started to turn, the nights are drawing in and at night (or early morn) you can sense Autumn has arrived - it's not a smell as such, more like 'something in the air'. And I love it! Gone is the harsh heat and light of the summer, instead there's a softer, more mellow feel to the sun's light, and the verdant greenery is starting to be replaced by a much richer pallet of colours; yellows, oranges and reds, with some of the dark evergreens thrown in for good measure.
Needless to say, the first thing I thought when I saw the latest
Play Date Cafe
post was Autumn Leaves. Actually that was the second thing; the first was that I'd made the Fab Four - W00t!
Anyway, enough blethering, here's my entry for this weeks's challenge. I needed to make a card for a friend, and I'd had a vague idea of autumn fairies so it was 2 birds with one stone. It's an asymmetrical card, mainly because after I'd scored it to fold as A6 I found out it wasn't an A5 to start with, D'oh!
Come said the wind to the leaves one day
Come o're the meadows, And we will play.
Put on your dresses, Scarlet and gold,
For summer is gone, And the days grow cold.
Fairy - Crafty Individuals
Leaf - Tattered Angels
Leaf border - Hero Arts
Colours - Wild Honey, Victorian Velvet & Antique Linen.
Sprays by Sticky fingers